WinCE-Spider
WinCE-Spider is a solitaire card game for the Pocket PC. It is free open-source.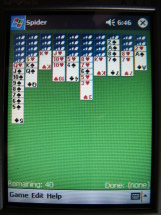 The goal of the game is to remove all cards from the board, including 50 additional cards dealt during the game, by assembling them into Ace-to-King sequences of the same suit. Cards can be piled down by descending rank (irregardless of suit). Cards of descending rank with matching suit can be moved together as a group. When a full sequence is constructed, it will be removed automatically. When you are ready for additional cards, select Edit->Deal to deal ten more cards.
Download:
See also WinCE-Mahjongg, which is another PocketPC game I've written.